Volunteer Opportunities
Volunteers have been faithfully serving and making a difference in the lives of our residents since we opened our doors in 1968.  Our volunteers play a vital role in the wellness and happiness of those we serve.  Volunteers at Woodside are involved in a variety of activities including:
Chapel Services
Resident Outings
One-to-One Visits
Music and Entertainment Programs
Holiday Parties and Special Events
Arts and Crafts
Bingo, Games, Happy Hours, Baking and So Much More
There are a variety of volunteer opportunities to choose from or call us to customize something that is just right for you!  Volunteer in one area or throughout our campus.  For more information, email one of the Life Enrichment Managers listed below or call Sarah at 920.405.3207 or Jennifer at 920.405.3277.
Volunteer Spotlight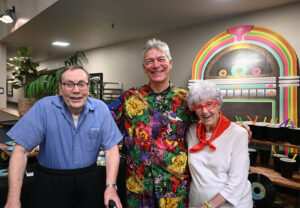 Always with a smile on his face and a spring in his step, residents and staff love long-time volunteer Bob Charles.  From dressing the part for special events and holidays to leading a Rosary prayer group to playing a competitive game of Bingo, residents know they can count on Bob!
"Bob's energy is contagious.  He has the gift to lift everyone's spirits with his easy going personality," said Shelly Carmichael, retired Life Enrichment Manager for Woodside Manor and Villa.  "Bob generously shares his time with all of us and we are so grateful for him."
Frequently Asked Questions